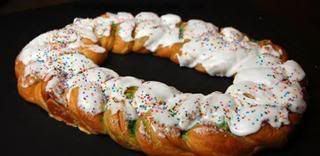 Let the
good
times roll!
While the rest of you are oh so excited about Valentines Day, (and you should be it's a great holiday for us ladies) the Bumpkin is celebrating Mardi Gras! The official kick off is in my hometown this weekend. Of course the Bumpkin will have lots of pics, recipes, and little something extra to share.
It's the Bumpkin's 1st Giveaway. Since Mardi Gras is the biggest celebration on the Coast, and most of you live to far away to celebrate with the Bumpkin, I thought it would be great to share one of my favorite Mardi Gras treats with one of you. The Bumpkin is giving away a Paul's Pastry Pecan Praline King Cake. A King Cake is a traditional Mardi Gras party staple. The tradition is during the season you visit many parties all serving King Cakes. They come in all sizes, and flavors. In each King Cake is a tiny plastic baby. If you get the piece with the baby in it, (read bite into something a little hard and break a tooth), you are obligated to buy the next King Cake.
Serious disclaimer here: The Bumpkin is warning you that the baby can be a potential choking hazard, so if kids are going to be around the king cake, you must check each piece carefully for the baby until it's found.
Now this is not just any King Cake, this is the best King Cake.
Paul's Pastry Shoppe
is in Picayune, MS (Bumpkin pronunciation is Pick-key-yoon). It's between here and New Orleans, and they have King Cakes down to a science. Most of their cakes have purple, green, and gold sugar on top, and The Bumpkin hates this part of the King Cake. The Pecan Praline has a special topping, and sprinkles in the traditional Mardi Gras colors. It is absolutely divine. Paul's King Cakes are delivered to BP stations here on the Mississippi Gulf Coast, and we fight to get the Pecan Praline King Cakes. Literally, they are delivered on Wednesdays and Saturdays and if you aren't there early, you get stuck with Blueberry Cream Cheese or the ever dreaded Plain. If you want to order your own King Cake I have provided the link above, and Tell 'em the Bumpkin sent y'all.
I will close entries on Wednesday February 18th, 2009. Winner will be announced on the 19th.
I will have the King Cake delivered to you Fed Ex on Fat Tuesday (February 24th), while The Bumpkin is in New Orleans you and at least 10 others can celebrate Mardi Gras too!
Here are the rules, I'm keeping it simple.
Leave a comment=one entry
Become a follower (Come and ride the swing) =3 entries
Tell about The Bumpkin's giveaway on your blog=5 entries
All my current followers automatically get 4 entries, because I'm loyal to followers!
In other Valentine's Day giveaway news be sure to get entered in these two ladies giveaways!
The
Mojito Maven
is giving away Fat Witch brownies, and if you have never had
Fat Witch brownies, you better get on over
there
and get entered. Both the Maven, Oprah, and I agree this is a must for all chocolate lovers. I suggest the blonde babies be in your mix!
Also,
The Blue Eyed Bride
is giving away Hanky Panky gift package for Valentines Day!
Get on over
there
and register for this sexy sassy giveaway!
Love,
The Bumpkin