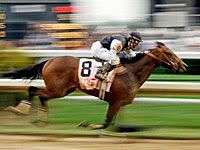 Still a chance for a Triple Crown winner this year. The Preakness is next Saturday, and the owners and trainers, have reconsidered, and Mine That Bird and his Cajun jockey are going for it!
Is this the year? If Calvin gets him on the inside it just might be!
Stayed tuned........Are ya'll gonna watch it?
Love,
The Bumpkin